The Catchment Plan
Please note, our catchment plan is continually under review and partners meet regularly to discuss and share opportunities. However, during 2022 our plan is undergoing a more comprehensive review and we will be updating these pages shortly. 
This is your catchment plan for South Cumbria. It has been developed by a wide range of partners and is open to everyone to shape and influence.
The South Cumbria Catchment Partnership, now known as Becks to Bay, was established in 2013. It aims to support integrated working across the catchments of South Cumbria.
Our plan is about action and opportunities. We don't want to spend endless time writing a new static document, we want to be out there putting our plans in place. However, it is vital we have a plan: delivering actions, raising awareness and gathering support all relies on management and communication.
You can check out our catchment data portal to review the data and evidence behind the plans.
The catchment pages opposite review and highlight the opportunities and actions needed for each of our 5 main catchments.
Our Vision:
A healthy, sustainable and diverse catchment system, providing a wide range of benefits which are valued by all.
Why do we need a catchment plan?
South Cumbria is spectacular; it supports a wide range of habitats which are home to some of our rarest and most loved species. These include Atlantic salmon, freshwater pearl mussels, otters, kingfishers and the native white clawed crayfish, which we aim to protect and celebrate.
Rivers and the wider landscape are important to us all, whether we walk alongside them, play in them, make a living from them or just rely on the supply of water they provide. On the surface this may look like a healthy landscape, however, this isn't always the case: what we often believe to be natural is in fact shaped by human hands over century's. Additionally, pressures on our rivers are evident everywhere; diffuse pollution, abstraction, invasive non-native species, a lack of habitat and a legacy of channel modification  all combine to influence the state of our rivers and wider landscape. Therefore, we are coming together to develop a 'catchment plan', identifying issues and priorities, recognizing opportunities and pooling resources to deliver more than ever before for the landscape of South Cumbria, leaving a lasting legacy for future generations.
What w
ould you like to see for the catchments of South Cumbria in 10 years time?
We need to take action to support the environment, economy and cultural identity of our local area. The landscape provides us with a wide range of benefits, otherwise known as 'ecosystem services'.
These include:
Clean drinking and bathing water
Water for industry and agriculture
An area for recreation
Food and fuel
Regulation of water flows, particularly under flood and drought conditions
A home for native wildlife
Climate change regulation
Ultimately, our landscape is a central asset underpinning a large part of our economy. Therefore, it is important that we work to ensure all of these services are functioning together and the benefits are recognised. Our freshwater systems provide us with a large range of benefits entirely free of charge, however, these are frequently undervalued. Many services are not managed sustainably, thereby depleting the resources for future generations.  Accelerated loss of species and changes to habitats, largely due to human interference, threatens the ability of our landscape to continue to provide these essential benefits.
We need to meet the needs of the present without compromising the needs of the future.
Delivering the Plan
Themes
Becks to Bay recognizes that many factors contribute to the health of our catchments and that these factors don't operate in isolation. Therefore, we have established the following seven themes to guide us in our work. These themes all interlink, enabling us to look towards delivering multiple benefits through our projects. Key to all of these is connecting, engaging and involving a wide range of audiences including local communities, businesses and landowners.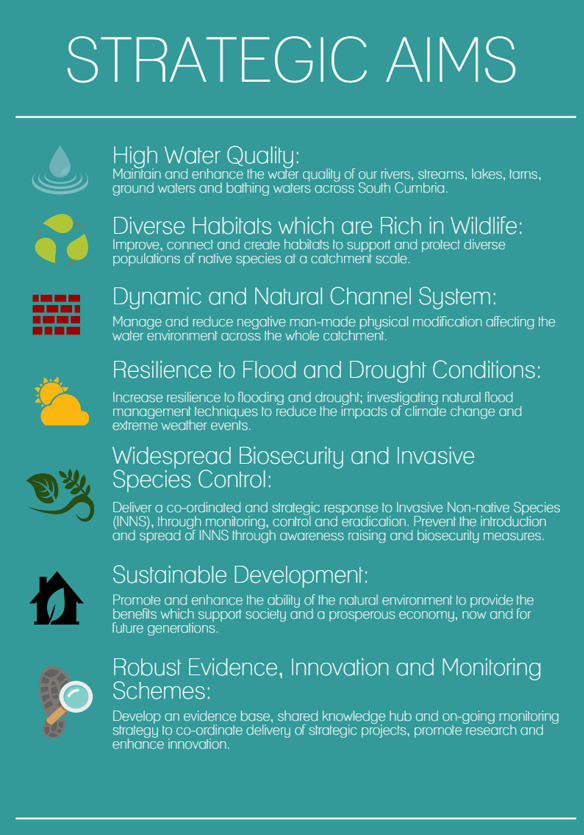 Part of the EU funded LIFE Programme of Integrated Projects: