Frequently Asked Questions
Over on our social media sites we have been running 'Back to Basics' question and answer sessions. We're aware that not everyone knows about catchment partnerships and that there is lots of confusing terminology. This is a chance for anyone to ask their questions and we'll try our best to answer and explain what we do!
Below are some of the questions we've received so far, please feel free to keep asking us or message us your questions on social media (Twitter & Facebook)
Who Are Becks to Bay?
Becks to Bay are your local catchment partnership, comprising a range of partners across South Cumbria. We're hosted by South Cumbria Rivers Trust under the National Catchment Based Approach Initiative.
Partners Include: Environment Agency, Natural England, Forestry Commission, National Trust, University of Cumbria, Cumbria County Council, NFU, Friends of the Lake District, Morecambe Bay Partnership, Arnside & Silverdale AONB, RSPB and many more.
Find out more here. 
What is a catchment partnership?
A catchment partnership is a group of local people and organisations working together to protect and enhance our local area – in this case South Cumbria. However, there's catchment partnerships all over England. (see map here)
What things do you focus on as a partnership? Do you have specific projects or themes?
As a partnership we are working to achieve the following vision for South Cumbria: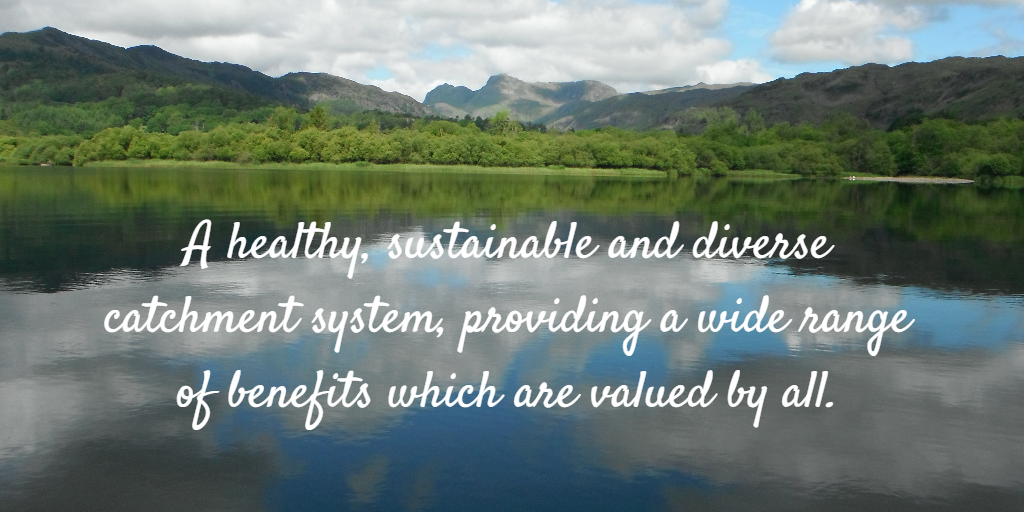 Each partner organisation has their own objectives but together we can use the range of objectives, skills and resources to achieve more.
As a group we are working against the seven themes shown below. This helps us to set objectives for what we'd like to achieve across South Cumbria. Although we realise that these themes don't work in isolation, a lot of what we do & the projects we delvir will meet more than one theme.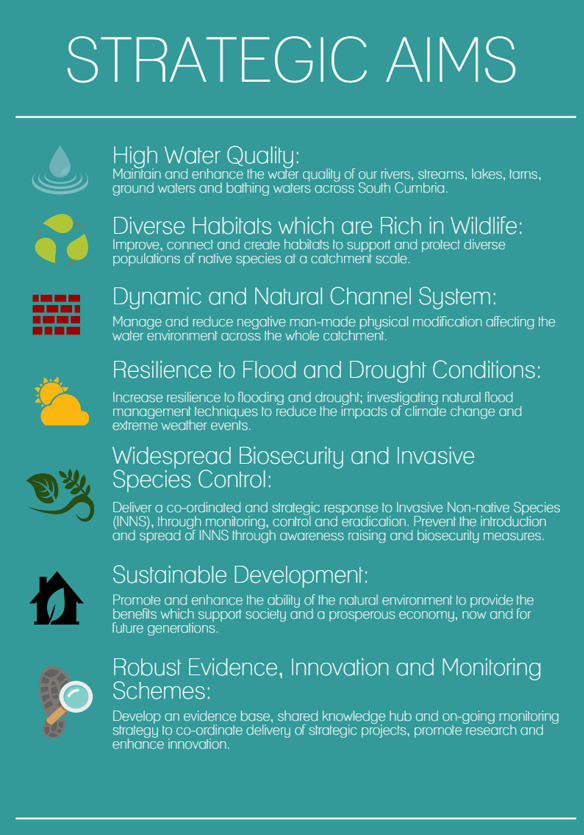 Do you involve local communities?
Yes! It's always nice when communities get involved and we work closely with our local community partnerships to facilitate this (https://btob.scrt.co.uk/community-partnerships). There is also a wide range of ways people can get involved such as joining the conversations on our discussion forum, submitting project ideas via our data portal or volunteering on local projects such as the project run by Conserving Coniston & Crake.
Can you give us some examples of partnership working?
The Conserving Coniston and Crake project, supported by Becks to Bay, is a great example (find out more on their website: https://ccc.scrt.co.uk/). The Becks to Bay partnership have also recently progressed a number of successful projects, including one between South Cumbria Rivers Trust and United Utilities. For more information visit our case-studies page.
How can people get involved?
They could volunteer with some of the delivery organisations, view the information hosted on this website and submit potential projects or share their local knowledge.
Why work with so many different people?
Our catchments are used by all in some form, such as for drinking water, wildlife, recreation food etc and so it make sense that a lot of people contribute to protecting and enhancing this. Although contributions can come in a range of formats and range from large to small.