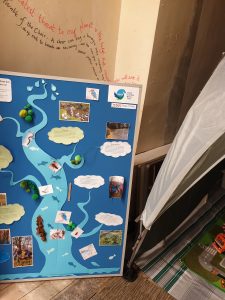 A fantastic exhibition, by a wonderful local artist has made it's home in Grange-over-Sands for the past month (last chance to see it tomorrow so get along quick). The exhibition is based around the theme of 'single use planet?' covering topics such as climate change, plastic pollution and our impacts on rivers and the environment. It encourages everyone to do their bit – small steps can make a big difference, and together we can initiate change.
South Cumbria Rivers Trust, would like to thank Jeni McConnell for inviting them to be part of the exhibition, and Tesco Bags of Help for providing funding to support events such as this. With funding from Tesco Bags of Help, South Cumbria Rivers Trust are running a 'Love My River' project over the next year, engaging local schools as well as supporting other local festivals and events to encourage people to celebrate and protect our local rivers.
This first 'Single Use Planet?' exhibition may be coming to an end, but hopefully this is just the start, who knows where it may appear next. Keep up to date and find out more via their blogspot or facebook page. Are you willing to make a pledge? What can you do to help our rivers and the planet?