A staggering 80% of the plastic in the ocean comes from the land, via rivers and coastlines thanks to things like littering or overflowing bins. Each year, an estimated 14 million pieces of plastic rubbish end up in and around our canals and rivers. Experts are warning that if nothing is done by 2050, there could be more plastic than fish in the oceans.
We want a better future than that. North West rivers and water environment project Natural Course are supporting the Plug Your Plastic Use campaign which is calling on everyone in the North West to make a real effort, together, to tackle single-use plastics.
Before stepping onstage in the upcoming UK tour of Everybody's Talking About Jamie, Blackpool-based actress and performer, Hayley Tamaddon, is putting her teaching skills to use offstage and calling for people in the North West to plug their plastic use. 
The message is – avoid if you can, re-use or recycle if you can't. Picking up litter when you spot it is huge a win too.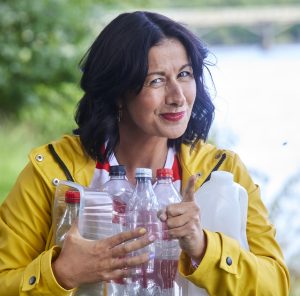 Here are her top tips:
Pick-up litter, once a day. Littering is more than just something unpleasant to look at it – it can cause problems for decades when it's inevitably carried out to sea. Whether you're on your way to school or work, or simply out and about, just picking up one piece of litter and responsibly disposing of it could make a huge difference to the health of our oceans.
Use your reusable bottle. Every day in the UK, 15 million single-use plastic bottles are used. Once you've bought a reusable bottle, and there's plenty to choose from, don't stick it in the back of the cupboard. Have it somewhere in your eyeline so you remember to take it with you when heading out the door.
Work your bathroom bins. It's easier to recycle kitchen plastic with your recycling bins close-by, and overlook the shampoo and body wash bottles and everything else that comes out of your bathroom. Buy a little recycling bin just for those bathroom plastics to help easily sort your recycling at home.
Refilling is a no brainer. There are now so many ways to refill your supplies, from handwash to detergent, which can hugely cut-back on single-use plastic. More and more people than ever are getting in on the act because not only is it better for the environment, it usually saves money too. Across the North West there are many wonderful local refill shops such as Gatley Refillery and Plentiful Wholefoods in Manchester or Purple Carrot and Windmill Wholefoods in Liverpool. But the big brands are also catching up, and there's now refillable options on the supermarket shelf too.
Takeaway with care. It's tricky to cut back on single-use plastics when you're craving a takeaway. For me, it's about getting to know my favourite takeaways and being as responsible as possible. I'll order from restaurants that use containers I can either reuse around the house or recycle. If a takeaway I love is still using unrecyclable polystyrene, I probably wouldn't use them in the future, but I'd always let them know why.