Each summer we have a jam packed monitoring programme, comprising a series of fish surveys, riverfly (invertebrate)surveys and some water quality monitoring. However, this year the dry weather condition we experienced in May – July have put a hold on some of this work.
Fish surveys in particular have been put on hold, with only a small number being scheduled in for September. This is because river levels were too low earlier in the summer and high water temperatures meant that fish were already under a huge amount of stress. This is where our work to plant trees along the river corridor comes in. Trees help keep rivers cool and provides habitat to protect our aquatic wildlife. River levels have generally returned to normal conditions now, however, the effects of the dry summer will be seen for awhile.
Similarly, riverfly surveys, largely undertaken by volunteers have been limited this year. A number of becks dried up completely and where there has still been some water this hasn't always given a representative picture. Only a few areas maintained a sufficient running flow to produce reliable results. Riverfly surveys are a simple method of assessing deteriorations in water quality.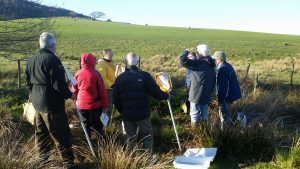 Monitoring is an essential part of our work to inform future programmes and develop our catchment plans. This year we have been keeping records of areas which were particularly hard hit by the low water levels and this will be incorporated into our annual reports.
Reports from previous years are available on our evidence pages.